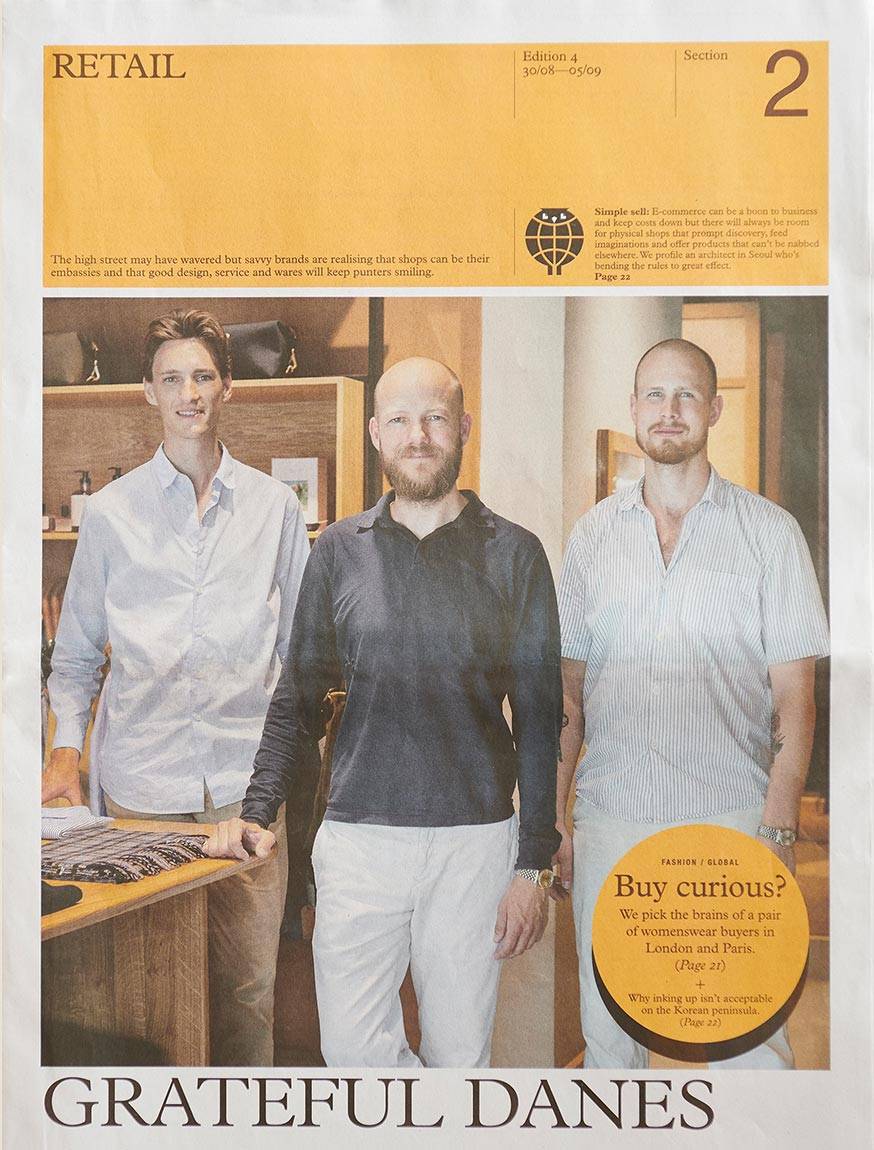 Monocle paid us a visit to do a story on the newly refurbished store and how GOODS plans to stay relevant as a brick and mortar destination. We hope you'll take some time out to read the article below. This interview by Monocle, was first published in the Autumn Fashion Edition newspaper from September 2018.
Goods has been in the business for 10 years this August, and we thought this milestone in our history should be marked and celebrated with a change. Ours is a mission to constantly optimise our store and strive to better the experience of the act of physical shopping. So, we decided to contact OEO Studio (an award winning interior design studio) to collaborate on a complete re-build/refurbishment of the store.
Kasper Hostrup founded Goods in the off-beat location of Østerbro in Copenhagen. His cosy shop is all about quality garments rather than flashy labels. We meet the owner - and some of his very happy customers.
Kasper Hostrup is sitting on a bench outside Goods Copenhagen, the multibrand menswear shop he founded 10 years ago. The sun is shining and he greets the flock of shoppers streaming into the newly refurbished shop, all while eating an ice cream. It's a familiar scene: located at the shop's entrance, this wooden bench is Hostrup's favourite place to catch up with customers over coffee or a scoop of vanilla. "We have customers who have been with us since the beginning, who know ou journey and what we stand for," he says of his small-scale menswear store that has steadily cultivated a dedicated following. "One of them, for example, has his own interior-design company - we have such a good relationship that we chose him to rebuild our shop." To celebrate a decade in business, Hostrup decided Goods was in a need of a makeover. "We wanted the shop to set sail for another decade in business," he says. Cue a tasteful overhaul of the intimate shop by Thomas Lykke of Scandinavian interior-design firm OEO. The new space features an oak cash desk, concrete walls and wooden shelving that stretches towards the ceiling; a brass-and-oak ladder, made by local artisan Søren Ulrich, is propped up against one wall.
It may seem surprising that Hostrup chose to refurbish Goods' only physical store rather than invest the money into expanding its brick-and-mortar presence. "Our thought was, Should we open another store, or should we re-do this store and make it the that we could possible do?" he says. "The fact that our online business is growing so rapidly, especially in Germany and the UK, allows us the freedom to invest in our shop. Fewer and fewer brands are investing in the way that we are in physical retail - people find it unique." Indeed, Hostrup is anything but conventional. He opened Goods at the height of the financial crisis in Østerbro, an upmarket location but on that is away from the city's main shopping district, Strøget. Since then a number of other brands have opened nearby, including Danish womenswear designer Stine Goya and cult Copenhagen women's label Ganni, "You can get customers out to you, even if you're in a backyard somewhere, as long as you offer something they can't get somewhere else. With our product selection and environment, people are willing to travel - even to this part of the city." With the sleet new interiors, they now have even more reason to visit. "We wanted the shop space to emulate the products that we sell: quality clothing that's very tactile and long-lasting," he says. When it comes to clothing, Hostrup is firmly against the flashiness of labels and seasonal trends. "We want people to say, 'I bought a shirt at Goods today,' not 'I bought an APC shirt today." And while the shop does stock international brands such as New Balance and Moscot, shoppers can delight in discovering more niche labels such as Italian footwear brand Diemme, Danish knitwear brand Andersen-Andersen and Japanese eyewear label Eyevan 7285.
The shop's in-house label, Goods, is also a big draw. It was introduced by Hostrup in 2016 to fill a gap in the inventory for "exceptional staple garments - and at price that none of our suppliers can match as we're producing solely for Goods and our clientele. There's no middle man or retail mark-up." In line with the shops slow-fashion ethos, its own products, which include cashmere sweaters and Oxford shirts, are seasonless. And having his own brand means Hostrup can be sure that there are always essential items in stock (he doesn't need to rely on external fashion brands whose seasonal drops can be erratic). It's all part of what Hostrup calls the "timeless wardrobe". Inside the shop, a large oak table is loaded with ceramics and folded knitwear by Italian brand Barena. On the shelves sit Common Projects sneakers as well as Fiele fragrances and books on topics from cooking to travelling. Never mind a wardrobe: Hostrup is peddling a lifestyle at Goods - in a retail space as beautifully understated as the clothing he sells.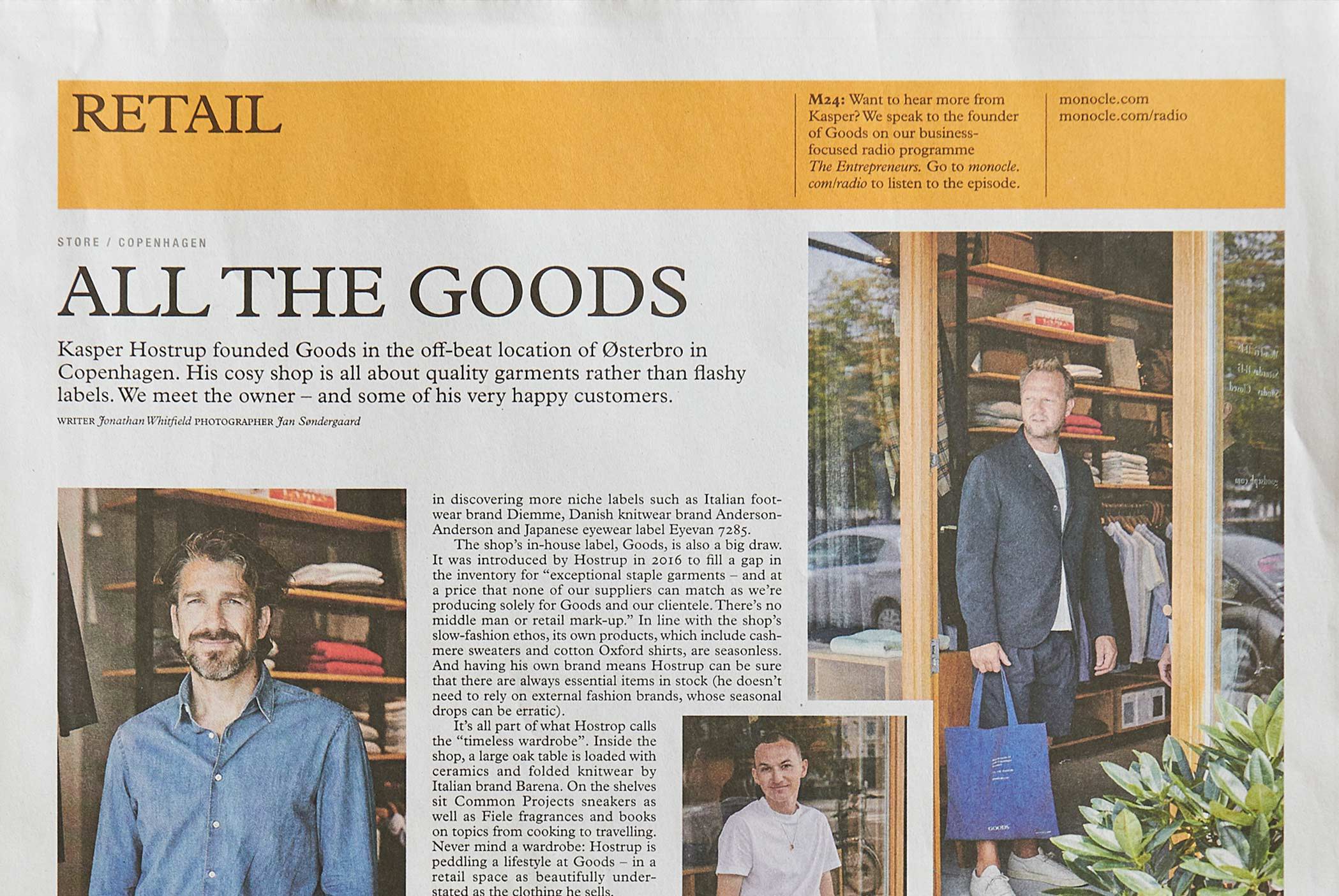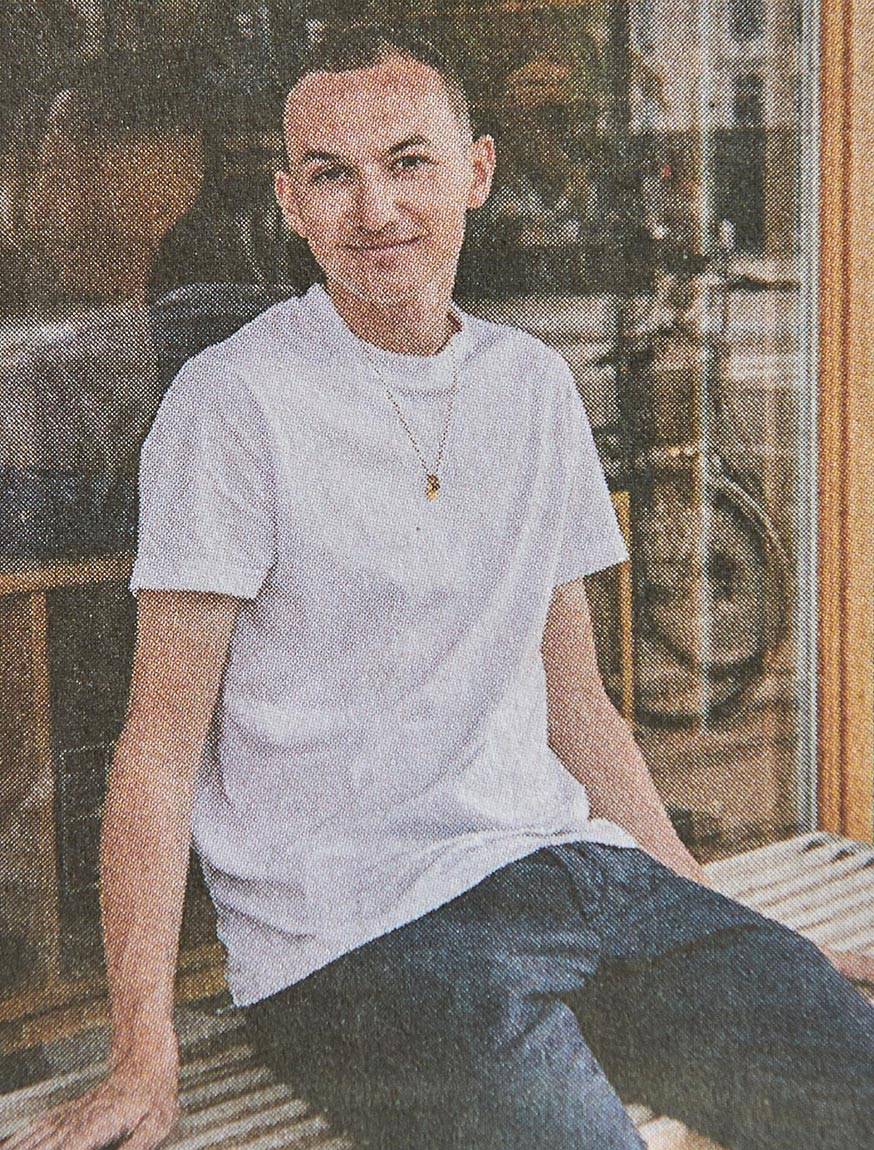 Student of creative direction at Polimoda, a fashion school in Florence
"I started shopping at Goods about eight years ago and got to know Kasper so well he actually gave me a job. I worked here for 18 months before moving to Italy. Kasper has great taste; he only chooses what he likes and his style is uncompromising. He offers contemporary menswear but pieces that are suitable for dressing in a classic way to. This mix appeals to a lot of men today."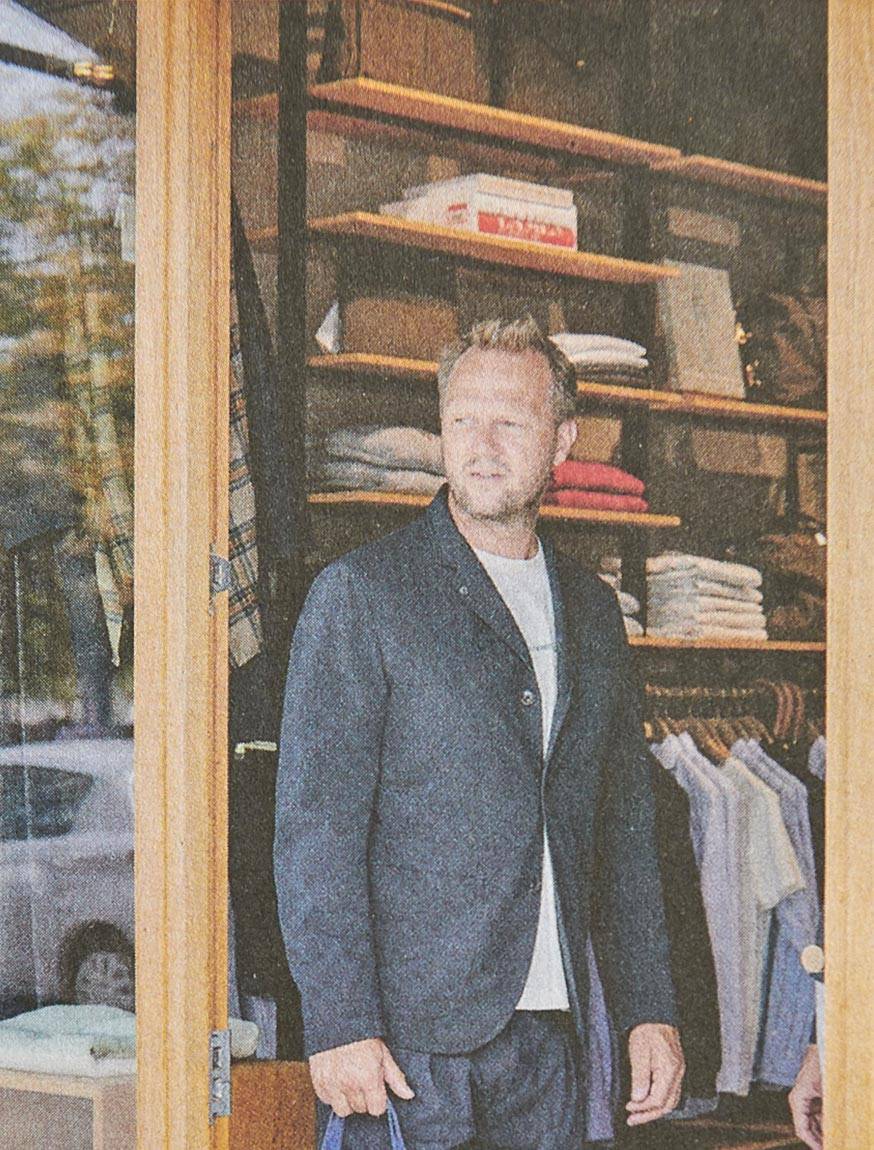 Account director and partner at design agency Noted in Copenhagen
"I still come here, buy my clothes and hang out. It's a social spot for me - I stop off on my way home, have a coffee and a look at the clothes. I think this is a great example of how you can have a shop that gives another element to shopping. Kasper is great at bringing good brands to the table - I know he'll find stuff that I don't have time to."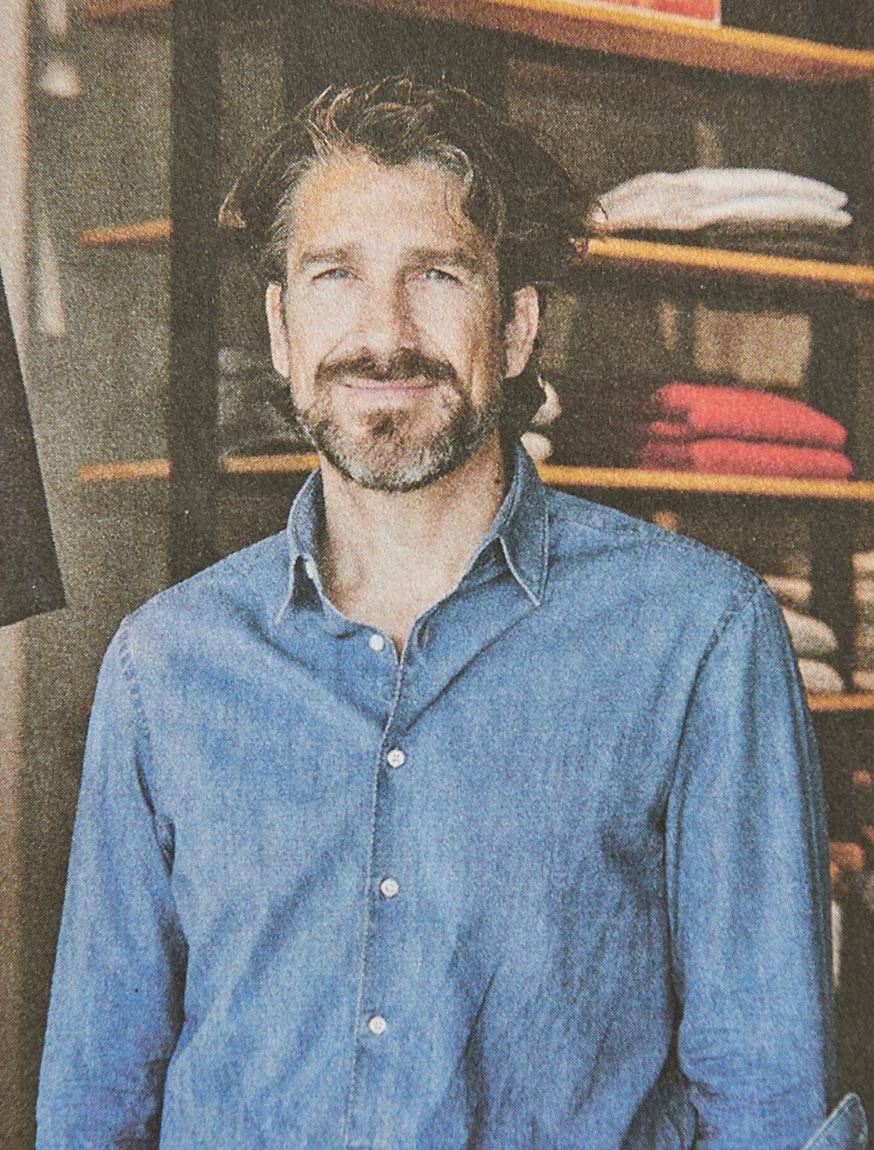 Pianist and vice-president of culture at Copenhagen amusement park Tivoli Gardens
"I discovered Goods not long ago. Kasper know what he is doing. When I go to Drake's in London I get really overwhelmed as you can buy 1,200 different patterns. Kasper chose the right four Drake's patterns - he's good at picking the right things."